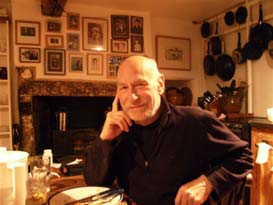 Glyn Hughes (1933-2011) won national prizes and awards for his poetry collections. His first book, Neighbours, was a Poetry Book Society Recommendation and won the Welsh Arts Council Poet's Prize.
He was awarded the Guardian Fiction Prize as well as the David Higham Prize for his first novel, Where I Used To Play On The Green. He was short-listed for The Whitbread Novel of the Year for The Antique Collector, also for the James Tait Black Prize, and the Portico Prize.

A Guardian poll of readers in 2005 chose two of his books - from the whole history of literature - as "Eco-Classics" (a.k.a. "Great Classics of British Nature Writing"), making him almost the only author nationally to have more than one title selected.
Also picked by The Times as one of the "Six best authors ever on the North of England".
He broadcast on the Brontës and on other subjects, including a series following a journey across the North of England. ("The Long Causeway") He has been the subject of a BBC2 tv. profile, and is a popular performer on the reading circuits world-wide. (See below.)
Glyn Hughes was an Arts Council Fellow and Writer in Residence at Bishop Grosseteste College, Lincoln, in Farnborough, Hants., and for the D.H.Lawrence Centenary Festival, Nottingham, UK. He lived in West Yorkshire, which was the inspiration for much of his work.
He published many feature articles, reviews of books and art exhibitions, for The Guardian, The Sunday Times, The Observer, Times Literary Supplement, The London Magazine, various literature journals, etc.